Well, we recently upgraded the SnapManager version on our test box to 6.4.1. Now however, after restarting the box the SnapManager service failed to start … The error was something like this: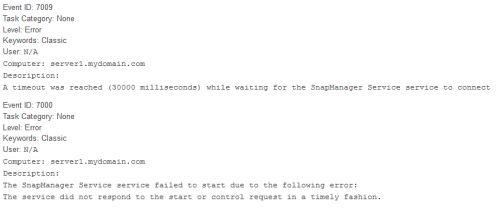 Now, first I stumbled upon this NetApp Community post, which only contained the "solution" to increase the global! wait time for services. That didn't sit well with me.
So after looking through NOW! for a bit, I actually found the correct way. The fix is described in KB2010835. Yet again, another certificate error. Why do vendors deploy SSL certificates, when they use untrusted ones, which defeats the purpose of SSL certs or at least "brings up" users to ignore any error message they get concerning SSL certificates ?
As the KB article describes, you need to remove the following settings: