Well, I have yet another weird UCS problem. I have a single blade, that has trouble with it's primary fabric attachment.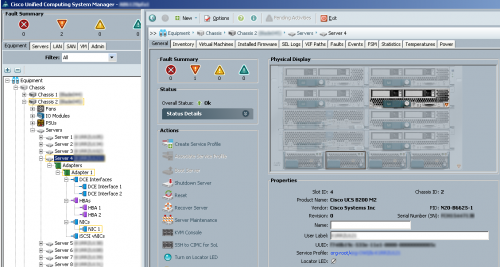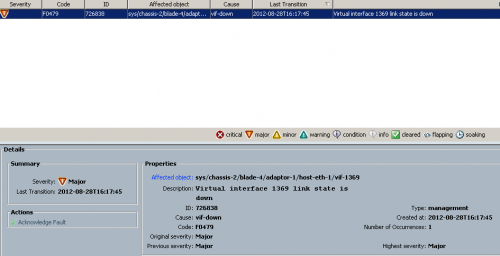 The problem get's even more weird, if you look at the details.

After looking at the IO modules, the error doesn't become any clearer:

So far, I have tried nearly everything. I've tried resetting the active and passive Connectivity of the vNIC, I tried resetting the DCE adapter for the vNIC, but nothing. I even tried resetting the vHBA that's associated with this fabric, but that didn't result to anything. Not even the usual flogi (fibre channel login) errors, that you get when either booting/resetting the blade.
Well, I opened a TAC case and the Cisco engineer looked over the CLI of my fabric interconnects, hacked away at the thousand logs the UCS keeps, and asked me if I could switch the blade to another slot. However, since I don't have any slots to spare – the five chassis are full – he said he'd start the RMA process for the MK81R mezzanine card.
The new MK81R arrived a few days later, however the issue still persisted. So the TAC engineer suggested I'd pull the IO module and plug in a "new" one (one that I knew was working). So I picked a Friday afternoon for the maintainance window (since I didn't know if the blades would survive a IO module failover) and pulled one from my newly arrived chassis and reseated the one I knew to be faulty.
Guess what: after swapping the IO modules, the error is completely gone …. *shrug* I don't have a clue how this error happened or why it was fixed by pulling and plugging the IO module. Guess another error for the odd category.