We're currently having a *really* weird problem with our VM's. Sometime last week, SUSE released a kernel update. Now, once you install it and you reboot the selected VM with a DVD/CD image present, you're gonna see this: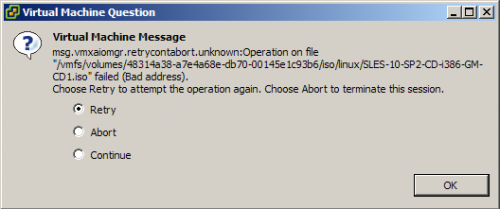 The only workaround so far has been to unmount *any* cleanse any CD-Drives attached to the VM. And yes, this is reproduceable, even reinstalling from scratch doesn't change the fact, that after installing the patch the VM quits working.
I also know, SLES10 SP2 ain't officially supported yet by VMware, but I'd still suspect it to just work and not produce such weird errors. The only thing I found so far is this VMTN thread ..
Lucky us, VMware just today released Update 2 for VirtualCenter and ESX, wherein SLES10SP2 should be officially supported!