Well, Laura Kedziora (Marketing Manager) from Rove contacted me about two months ago, whether or not I'd be willing to write up a review about their upcoming release of Mobile Admin supporting Nagios!
At first, I didn't even know what "Mobile Admin" was .. though I heard some good things about Rove. After playing with it in a VM, I do have to admit that it's a real neat piece of software.
You can cover the whole (well, pretty much everything) shebang dealing with Nagios with the cell phone. But not just that. I could also manage our VMware Infrastructure (or vCenter) with it, as well as a SCCM environment (if we had any that is). Since I only have a shitty-old Nokia (not the required Nokia 6xxx), I ended up borrowing my brothers BlackBerry to take some photos.
These are the interfaces I'm wanted to cover:
Mobile Admin server
Nagios (since this was the initial point they asked me to review Mobile Admin)
Windows (RDP, EventLog, Services, AD interface)
Linux/Unix (SSH)
To introduce, I do have to say I had some trouble figuring out a way to actually test this with the BlackBerry. Though it has nothing to do with Rove or Mobile Admin, but rather with the way I setup the tests. I did all this in my lab (you could call it that, it's a single box running ESX, running ~20 or so virtual machines) at home, but since these services didn't have a public address I had to play around with incoming NAT on our router. This all, because the BlackBerry Flip my brother owns is too stupid to associate with my wireless network.
1. To start, I wanted to see whether or not I was able to view the Mobile Admin server's interface via the cell phone.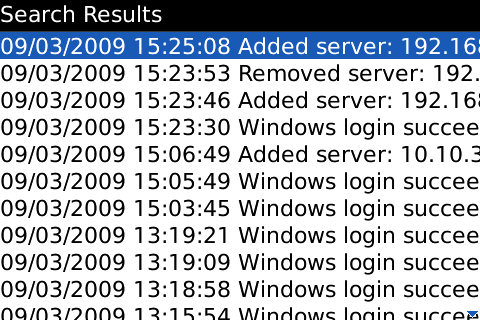 As you can see above on Picture 1, I was able to view browse through the Mobile Admin server's inventory, and I ended up showing the AuditLog.
2. Next test on the list was interfacing with my Nagios installation.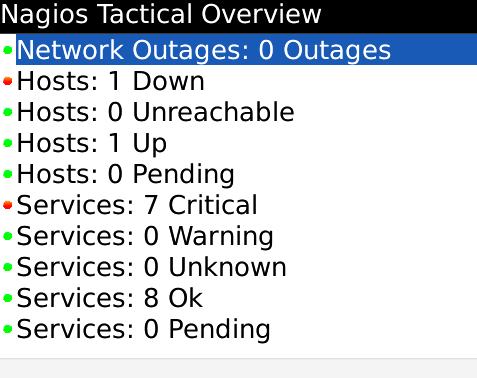 As you can see on Picture 2, the Nagios interface that the Mobile Admin Client features, is able to view the Nagios TAC. But it doesn't stop there. The client also enables you, to reschedule checks, acknowledge checks, disable/enable notifications, … The list goes on quite a while. It basically features all the options you'd have with a normal browser.
3. I also wanted to see whether or not, I was able to utilize the various features Mobile Admin has regarding Windows administration.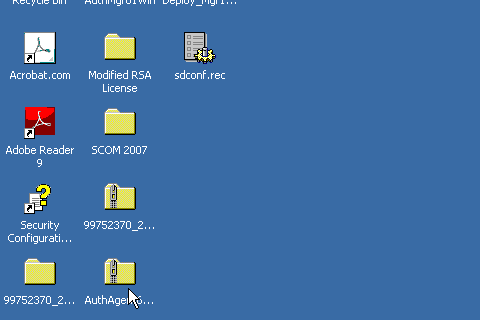 As Picture 3 shows, opening a Remote Desktop session to a Windows box is quite easy, even though you do have to use the round gizmo on the keypad (what is that called anyway ? A trackball ?).
4. Next two items on my list were accessing the most important Windows control panels (well, that's my opinion – yours may differ – but that's the good thing about opinions).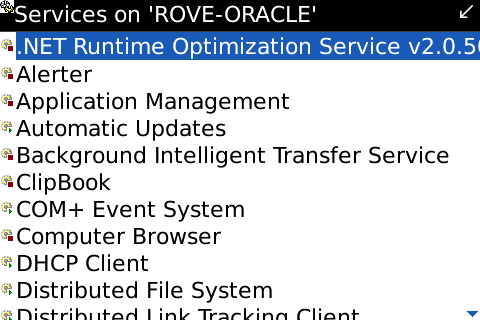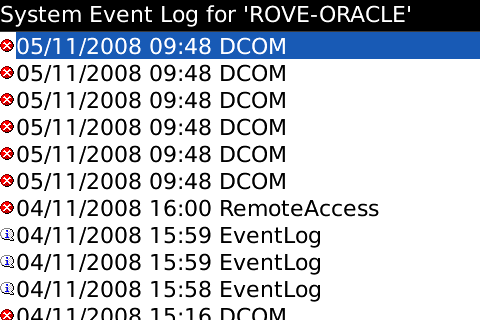 And that is exactly, what Picture 4 and Picture 5 show us. Administering a Windows box with the cell phone becomes quite easy with Mobile Admin. Only requirement for those two is that the SAM-account you're using to access the box, isn't limited to a certain list that doesn't include your cell phone.
5. Last, but not least I wanted how usable the SSH-interface was. This was about the most important feature I needed, since I do run quite a few Linux/Unix boxen at home and at work.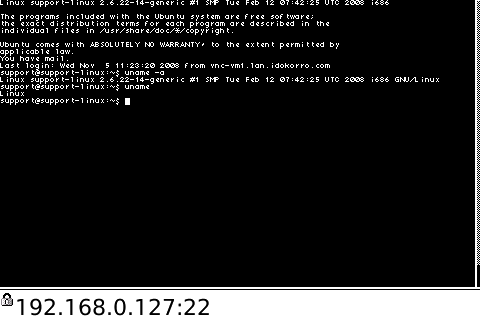 And Picture 6 shows exactly that. Opening a SSH session from the BlackBerry gets as easy as calling someone.
Summing-up, I do have to say I'm quite pleased with what Rove provided. The installation of the Mobile Admin server, as well as the cell phone client is quite easy. What's even more astonishing, is how easy it gets to interface your various systems with the Mobile Admin client. It took about 10 (as in ten!) minutes to actually test the initial list of things I had on my plate. Sure, I ended up doing some extended playing with it, since it actually is fun to use (which I can't say about that much software — just look at Tivoli, that's a real mean software).